Trainingsoffer
Have you become curious and would like to start with track cycling? Or are you looking for good guidance? Below you can see my extensive training offer!
————————————————————————————————————————————————————–
Introductory Training
You can (as an individual or small group) attend an introductory training course at Het Velodrome in Amsterdam, but also at the Sports Palace in Alkmaar. You will learn cycling on the track and a number of track rules. First of all, you will learn what a track bike is and how to set a (hired) track bike. You will learn the differences between a track bike and a road bike. Then you'll cycle on the interior and concrete to get to know the bike. Under supervision you will then go in and out of the track safely. While starting to get used to other sports slowly, track cycling starts with the highest possible speed. It also teaches you to drive in a 'train'.
The introductory training starts at Velodrome in Amsterdam again from September 2017. The schedule is available here. The training courses have a dark blue color. Registration for a training course is done through: http://www.aanmeldenvelodrome.nl/
The Sport Palace in Alkmaar offers from October introductory classes (called the Sport Palace introductory classes). Data for this can be further determined. Sign in can not be done yet.
Pay attention! Training courses can also be given by other trainers. Do you want any training from me? Always ask for this first. This can be by phone or by mail (Amsterdam: trainer@velodrome-amsterdam.nl).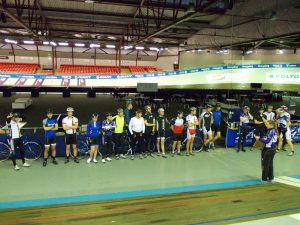 ——————————————————————————————————————————————-
Clinics
If you want to get to know track cycling with a larger group (more than 8 people), we offer clinics. A clinic takes about two hours. During that time you have the sole right on the track that can be supervised by C for Cycling. During the clinic you will learn the same as at the introductory training, but in the company of your (cycling) friends and / or collegues. In a group that is composed by you. This can help to pass a proverbial threshold.
More information and the price of a clinic in the Velodrome Amsterdam can be found here.
More information and the price of a clinic at the Sportpaleis Alkmaar can be found here.
Pay attention! Clinics can also be given by other trainers. Do you want any training from me? Always ask for it first and submit it to the application form. This can be done via the links above.
—————————————————————————————————————————————————————————
Step-up Courses
New this year for beginner track cyclists who want to ride a bike in Amsterdam are the Step-up Courses. These are blocks of 3 to 4 consecutive trainings to get excited, to ride a lot of cycling on the track and gain experience, so that they can proceed to the Certification Courses.
Do you want to continue with trackcycling in Amsterdam? Then you must obtain a certificate. This can be achieved by following a number of certification exercises. The trainer / track-coach determines when your skills are good enough and you have obtained your certificate.
These Step-up Courses are only given in the Velodrome in Amsterdam. For more information & sign up for the various Upgrade Courses, click here.
—————————————————————————————————————————————————————————–
Trackcycling for womens only!
I notice that many women often hesitate to start track cycling between the men. That's why I, together with Marjan Peters, Birgitta Roos and Clare Roy, organise track cycling training for women only. Everyone is welcome; experience or no experience. You do not need a basic certificate. We make the training fun and appropriate for any level. Therefore, especially if you have more experience on the job! The guidance is provided by several trains. There is enough attention for each level!
Have you become totally excited? You can already sign up for the first women's block. For more information and registration you can click HERe. Have you read it, but do you still have questions? Just contact me and I'll explain it to you!
——————————————————————————————————————————————————————————–
Individual Coaching and Training
If you are interested in personal counseling and customized training, please contact for more information and possibly a free-of-charge call. In this way we can look at the possibilities together and meet your wishes.
——————————————————————————————————————————————————————————–
SCHEDULE