Experiences
During the years I coached riders and groups, I gave a lot of introductory training and clinics. Of course I understand that you'll like to read what the experiences have been from other riders and clinicians. Report in word and image can help you meet a new challenge like track cycling.
If you are ready to take the step, I am prepared to guide you as much as possible during those training sessions! Do you have questions? I'll be happy to answer them! Even if you're in doubt, I can help you make the right choice!
Personal Experiences
Nils van 't Hoenderdaal – "Carolien van Herrikhuyzen: Where there is a will is a way. I got to know Carolien in the Velodrome of Amsterdam. During a training of my club, ASC Olympia, she has "scouted" me. According to Carolien, I would have talent for sprinting on the track, but I had to buy gear blades very quickly to switch my resistance to a real sprint resistance. This was my first experience with Carolien, so I soon realized that she is a very stubborn, but also very smart sprint coach.
I've been able to train with Carolien for about two and a half years, and I remember mostly that everything is possible if you put enough time and energy in it! Of this wisdom, I still have a lot of benefits today, because I still train on a high level every day on the cycling track and the strength of the crowd."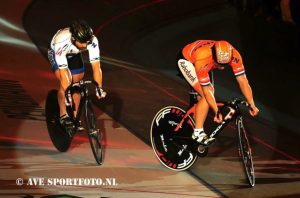 ———————————————————————————————————————————————————————————————————

Jayne Paine – " The day I met Carolien van Herrikhuyzen I knew that I had been very fortunate. She was booked to coach a large group of us a month before the World Masters Track Championships. I had been training hard for the 2km pursuit, and was only expecting to benefit from a lot of track time. Carolien took command of us and we all benefitted, sprinter and endurance athlete alike, no matter what the experience/fitness level or the goal.
I felt that I was going fast and hoped to break the 2km record, but the advice and help Carolien gave me enabled that record to be broken by 4s. She totally altered my position so I became much more aerodynamic, and she taught me how to control my power output throughout the effort. I was given all sorts of top tips.
How Carolien sees what needs to be done seems almost magical. She is able to make use of the latest technological wizardry, but I think that she just instinctively understands where improvements can be made and can help you to make those improvements and this is across all disciplines of track cycling.
Carolien is a remarkable person and a very gifted coach."

———————————————————————————————————————————————————————————————————

Chris Lodge – "I first met Carolien in 2014. The European Track Masters had been scheduled for the Alkmaar Velodrome that year but had been called off at the last minute because of administration and financial difficulties. Carolien stepped in with her usual energy and enthusiasm to rescue the event almost single handedly, turning it into the Alkmaar Friendship Meeting. A great success for riders that attended from several European countries and somehow Carolien found time to run the event and turn out some great rides herself.
Meanwhile I had been organising short training camps for groups of riders, mostly on the track at Ghent. When our faithful Derny rider retired and the track became less available for use, it seemed an obvious choice to turn to Carolien for ideas on a replacement venue. In the end, it couldn't have turned out better.
We have now organised several training camps together. People just keep asking for more! And Carolien has been instrumental in helping me make sure they run smoothly. Not least through her excellent coaching.
One of the hardest things to pull off is to keep everyone happy and look after a group of riders with different needs. My groups have at the same time contained World Masters Champions looking to peak for specific events, riders with little experience and confidence, riders just out to have fun and mid-field riders in search of PBs or small improvements. Carolien has the knack to send them all away happy as a group and as individuals.
Some of the results of those camps speak for themselves. But the biggest seal of approval comes from the riders themselves who come back for more each time. And from new riders eager to join the next camp and benefit from Carolien's talents.
——————————————————————————————————————————————————————————————————

Ellis van Loenhout – Carolien is great. When I first came to the Velodrome for an introductory training, I thought: that track is far too steep, I really do not dare to cycle on that! Carolien makes you feel comfortable and makes you feel calm at first when you cycle in the indoor area and after that also on the track. It's very exciting at the beginning, but if you want to do it, you'll do it! In her words: if you think of a purple elephant, then that elephant is purple. In other words, if you think it's scary and keep that in mind, it will be scary. If you see it as a great challenge, it's that too! Carolien is the best in helping you at your level and strives not only to become a better athlete but also a better person "

———————————————————————————————————————————————————————————————————
Blogs
Mostly in Dutch, use Google Translate!
Februari 2016 – Baanwielrennen: van reling tot Matrix-sensatie – Zijwielrent
https://www.zijwielrent.nl/baanwielrennen-van-relingkleven-tot-matrix-sensatie/

Februari 2016 – Remloos in de Rondte! – Ingefietst
https://ingefietst.nl/2016/02/28/remloos-in-de-rondte/

Februari 2016 – Sportpaleis Alkmaar – Frankener Wielerclub
http://www.franekerwielerclub.nl/fotos/baanclinic-2016/
Februari 2016 – Baanclinic Amsterdam – Roadrunners
http://www.roodrunners.com/archief/baanclinic-14-februari-2016/

2016 –  Amsterdam – MTB team Nijkerk
https://grannygear.nl/clinics/velodrome-baanclinic/

2015 – Amsterdam – Leven met Cerebrale Parese
Nieuwe uitdaging: Baanwielrennen!
2012 – Amsterdam – vrouwentriathlon
http://www.vrouwentriathlon.nl/verslag-clinic-baanwielrennen/
Video Clinic 2012
Video Clinic 2009