Biography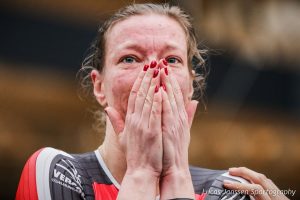 Carolien van Herrikhuyzen (1976) is the face behind C for Cycling. More than 16 years ago, she started with track cycling. Track cycling was still very unknown. There was hardly any guidance and there were no specific training sessions. Although it is very difficult to keep passion and pleasure, she continued. Meanwhile, the track is no longer to be considered from her life. Not everything went very smooth. In 2011 she suffered a serious knee injury, but after a reconstruction of the meniscus and a crossbone reconstruction she was determined to get back stronger than she was. In pursuit of dreams and goals she made the World Championship Masters in 2012. Since then, she has achieved various good results in sport. Since 2015, she is world record holder of the world record at 200m (flying start) in the 35-39 year class.
Over the last 12 years, she has developed into an excellent coach, partly
Partly because of the courses she followed: WT3 trainer, UCI coach and derny pacemaker. She is the driving force behind many riders who are active on the track and on the road. Special is her individual approach. Every training she gives gives the riders an individual insight into their performance. She does this in a very positive and inspiring manner by using her own experiences as a track cyclist.
C for Cycling, Cycling from Clinics until Coaching shows how Caroliens diversity. In addition to the individual coaching, Carolien provides various trainings and clinics to groups of every conceivable level at both the Velodrome in Amsterdam and the Sports Palace in Alkmaar. She also has a lot of experience in training paralympic athletes.
The track cycling had traditionally been a men's sport. For women, starting with track cycling is often a big step. Carolien is doing everything she can to get women in a positive, safe way to let them get used to track cycling. That's why she has developed special job training for women. More on this you can read on the training offer page.