Crowdfunding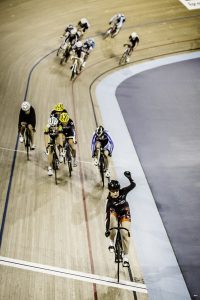 Can you see the disbelief in my eyes? I'm the one who wins the race and I could not believe it! I usually coach others, but I'm winning this race. I couldn't believe it. And since I have had more of those moments. I have made my track cycling dreams come true. I have done things I never ever even dared to dream about.
How? Simple: never quit, never give up, keep chasing dreams, keep moving forward, always do better.
Those things aren't all ingredients for the best results. You must be able to create those results. I'm doing that by entering competitions to prepare myself for the World Championships. The World Championships 2017 … I will be defending my three world titles. Gold on the scratch, gold at the 500m. Time trial and gold at 200m. sprint. In addition, I am in possession of a world record.
The training runs smoothly and the days slowly taper away. My goal is to defend my titels. All I have to do is to get together all the money needed to enter the World Championships again. I can't do this alone, I need your help!
To give you some idea of my expenses:
* Masters World Championship Masters Los Angeles $ 475, –
* Registration fee European Championship € 140, –
* Accommodation European Championship € 190, –
* Additional costs bicycle transport flight LA ​​€ 250, –
* Accommodation Airbnb LA € 695, –
* Doping check (if I break the world record this is required to make this official) € 500, –
* Car rental in LA € 549, –
* + Insurance, gasoline and in LA …. €?
Many sweet people have already taken care of various things: for example, on-site items, a place to sleep, a roller bench. A spontaneous financial gift from a friend after my breakdown.
Do you want to help? My crowdfunding page can be found here: https://www.gofundme.com/carolien
Do you want help but with something else and you have ideas about it? Please send me a message!
Impression of WK 2016